Kenosha developer aims for late-summer groundbreaking on 26 duplex condos in Franklin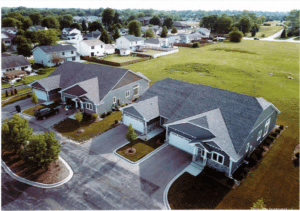 By Teddy Nykiel  –  Reporter, Milwaukee Business Journal
A southeastern Wisconsin developer aims to break ground by late summer on 26 ranch-style duplex condominium units that are still under consideration by the city of Franklin.
Bear Development LLC is proposing 13 side-by-side duplex condominiums in a development that would be called Woodfield Trail. The units would be priced between $375,000 and $425,000 and the developer hopes to break ground in August or September, Daniel Szczap of Bear Development said in an email.
The site is located on 16 acres at 12000 W. Loomis Road, just south of West Ryan Road. There would be a new cul-de-sac connected to Ryan Road, according to a city plan commission report.
An entity affiliated with the developer, Boomtown LLC, owns the currently vacant land. The developer is requesting a special use permit and a site plan approval at the city's plan commission meeting Thursday.
The proposed Woodfield Trail site is just south of the 130-unit Cape Crossing subdivision in the works by Neumann Developments Inc. The site improvement cost for Woodfield Trail would be around $1.5 million, according to a May 31 application from Bear Development.
Bear Development, which has its headquarters in Kenosha, last year proposed a 45-lot subdivision on a nearby Franklin site, on 35 acres of farmland south of Ryan Road and west of the Franklin Savanna Natural Area. The developer requested a rezoning and a change to the city's master plan to make way for the development but the city's plan commission denied the request in December 2021.
Other residential projects underway by Bear Development include 99 apartments in the planned Iron District in downtown Milwaukee, nearly 400 units in Union Grove and a 198-lot subdivision in Mount Pleasant.
Source: https://www.bizjournals.com/milwaukee/news/2022/06/06/duplex-condos-franklin-bear-development-woodfield.html